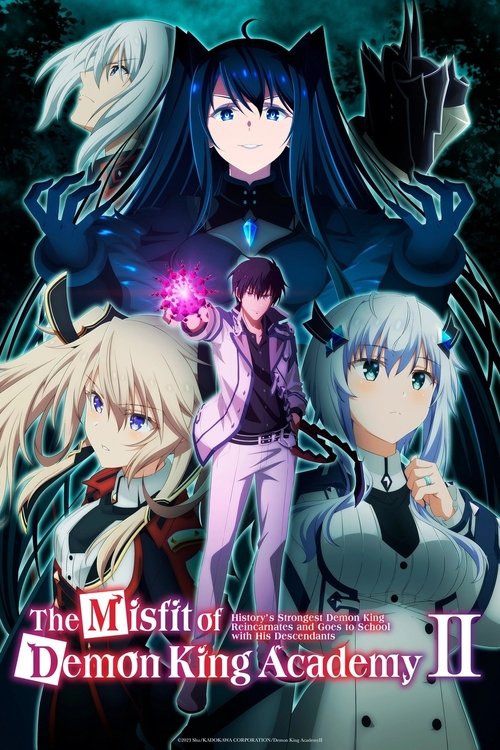 »INFORMAÇÕES«
Baixar Anime: The Misfit of Demon King Academy Completo Torrent
Titulo Original: 魔王学院の不適合者 ~史上最強の魔王の始祖、転生して子孫たちの学校へ通う~
IMDb: 7,3/10
Ano de Lançamento: 2023
Gênero: Animação, Fantasia
Idioma: Português, Japonês
Legenda: Português [Multiple Subtitle]
Duração: 24 Min./Ep.
Tamanho: 9.2 GB
Qualidade: WEB-DL 1080p
Extensão: MKV
Codec de Áudio: AC3 5.1 / AAC 2.0
Qualidade de Áudio: 10
Qualidade de Vídeo: 10
Servidor Via: Torrent
EPISÓDIO 12 LEGENDADO
EPISÓDIO 00 DUBLADO

Sinopse: Depois de 2000 anos, o cruel demônio acabou de reencarnar! Mas sua aptidão em uma academia para nutrir candidatos a senhores demônios é "inepta"! Tendo a capacidade de destruir humanos, elementais e deuses, após um longo período de inúmeras guerras e conflitos, Arnos, o lorde demônio, ficou doente e cansado de tudo isso e ansiava por um mundo pacífico, então ele decidiu reencarnar para o futuro. No entanto, o que o esperava após sua reencarnação é um mundo muito acostumado à paz que seus descendentes se tornaram muito fracos devido a um enorme enfraquecimento dos poderes mágicos.
:: DUAL ÁUDIO / DUBLADO ::
Episódio 01: WEB-DL 1080p
[Aguardando Exibição]
…
---
:: LEGENDADO::
---
:: LEGENDADO ::
S01 – Episódios 01 ao 12 Multi-Sub [1080p] (9.2 GB) (Mkv)

---

---
Baixar The Misfit of Demon King Academy Completo Torrent (2023) Dublado WEB-DL 720p | 1080p / Legendado 5.1 – Download