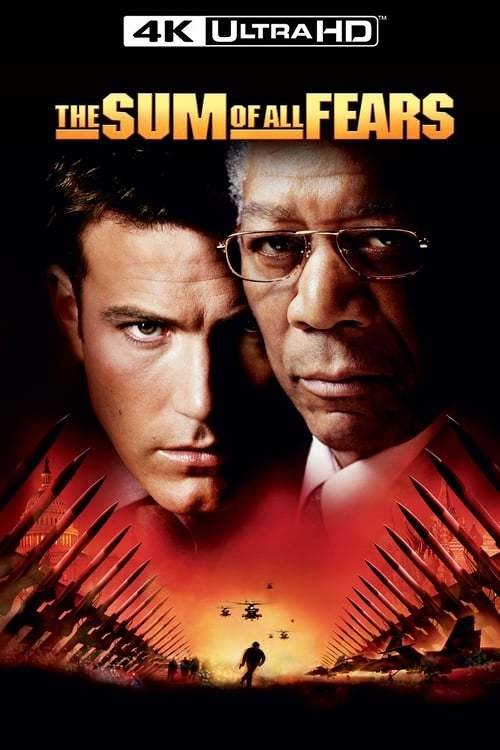 »INFORMAÇÕES«
Baixar Filme: A Soma de Todos os Medos Torrent
Titulo Original: The Sum of All Fears
IMDb: 6.4/10
Ano de Lançamento: 2002
Gênero: Suspense, Ação, Drama
Idioma: Português, Inglês
Legenda: Português
Duração: 2h 04 Min.
Tamanho: 1,26 GB / 57.80 GB / 1.50 GB / 2.36 GB / 1.93 GB / 7.48 GB / 27.21 GB / 52.23 GB
Qualidade: BluRay 4k | 720p | 1080p
Extensão: MKV / MP4
Codec de Áudio: AC3 5.1 / AAC 2.0
Qualidade de Áudio: 10
Qualidade de Vídeo: 10
Servidor Via: Torrent

Sinopse: A Guerra Fria americana é revivida, depois que o presidente da Rússia morre e é sucedido por um homem de passado obscuro. Mas as tensões Ocidente-Oriente vêm à tona, quando a CIA suspeita que cientistas russos renegados estão desenvolvendo mais armas nucleares. Acionado pelo diretor William Cabot (Morgan Freeman), Jack Ryan (Affleck) percorre uma trilha perigosa até uma chocante conclusão: terroristas planejam provocar a guerra, detonando uma bomba nuclear durante um jogo do campeonato de futebol.
:: DUBLADO ::
---
:: MULTI-ÁUDIO / DUBLADO ::
BluRay 2160p REMUX 5.1 [4k HD-R] 57.80 GB (Mkv)

---
:: LEGENDADO ::
BluRay 1080p [x265] 1.93 GB (MP4)

BluRay 1080p [FULL HD] 7.48 GB (Mkv)

BluRay 2160p 5.1 [4k HD-R] 27.21 GB (Mkv)

BluRay 2160p 5.1 [4k SD-R] 52.23 GB (Mkv)

---

---
Baixar A Soma de Todos os Medos Torrent (2002) Dublado BluRay 4k | 720p | 1080p / Dual Áudio 5.1 – Download